Duaba Unenra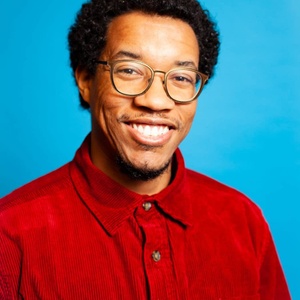 Program Officer at Headwaters Foundation for Justice
Born and raised in the territories of the Houma, Choctaw, and Chitimacha Nations, Duaba Unenra is a Black culture worker from Louisiana. After travelling up the Mississippi River to Minnesota, his roots now find a home in the lands of the Dakota and Anishinaabe Nations. For more than 15 years, Duaba has been apprenticing, studying, working on organization development projects, leadership coaching, facilitating groups, mediating, and evaluating work taking place in Black, Indigenous, Asian, Pasifika, Latine, Mixed, and LGBTQ2S+ communities. He utilizes those experiences to create grantmaking and organization development programs for Black Liberation Movements.
Duaba is motivated in all his efforts by Black Consciousness: the ethics and wisdom cultivated by Black people who have endured enslavement and colonization, as well as their centuries-long resolve to remain self-determining, light-hearted, and powerful. What satisfies him about his work at HFJ is the opportunity to make meaningful contributions to movements that transform society and uproot systemic oppression.
Outside of the office, Duaba enjoys a rich life being with his community and family.
Connect with him anytime you'd like to learn more about the Black Movement Ecosystem or the Black Seed Fund grant.