Adam Foss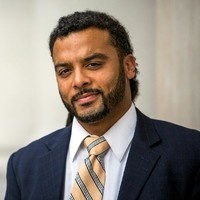 Adam J. Foss is a former assistant district attorney in the Juvenile Division of the Suffolk County District Attorney's Office in Boston. He's an advocate for criminal justice reform, emphasizing the role of the prosecutor in ending mass incarceration.
Foss believes that the profession of prosecution is ripe for reinvention based on improved incentives and more measurable metrics for success beyond "cases won." This motivated him to co-found Prosecutor Impact, a nonprofit that develops training and curricula to help prosecutors reframe their role in the criminal justice system.
His work has been widely recognized: Foss is the 2017 Nelson Mandela Changemaker of the Year, Fast Company named him one of this year's Most Creative People in Business, and The Root called Foss one of the 100 most influential black Americans of 2016. His alma mater, Suffolk University Law School, selected him as Graduate of the Last Decade, and he is a visiting senior fellow at Harvard Law School. He's also a fellow at the Open Society Foundation Leadership in Government initiative. In 2015, National Law Journal selected Foss as one of the country's top 40 up-and-coming lawyers, and in 2013, the Massachusetts Bar Association voted him Prosecutor of the Year. In both his professional and personal capacities, Foss volunteers much of his time to his community.