Chris Smalls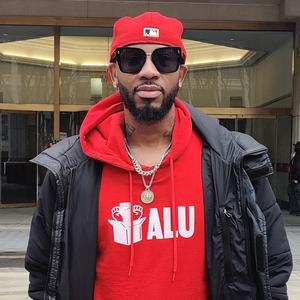 President of the Amazon Labor Union
Chris Smalls is an American labor organizer known for his role in leading Amazon worker organization in Staten Island, a borough in New York City. He is the president and founder of the Amazon Labor Union (ALU) since 2021.
Smalls grew up in New Jersey and pursued a career as a rapper, touring briefly with Meek Mill, but gave this up to support his children by working in the service industry and in warehouses. He joined Amazon in 2015.
On March 30, 2020, Smalls organized a walkout to protest what he said was a lack of proper safety protocols around COVID-19 exposures at the Staten Island warehouse he worked at, Amazon JFK8. He was terminated the same day for what the company stated was violating the company's social distancing policies during a required, paid quarantine. Smalls had been exposed to the disease on March 11, 2020, but was not notified or required to quarantine until March 28, after the incubation period had ended. Several government officials criticized the company and demanded the firing be investigated. Smalls and the state of New York also sued Amazon for unlawful termination.
After his termination, Smalls founded a worker-activist group called The Congress of Essential Workers, which later backed the formation of the ALU on April 20, 2021. The JFK8 warehouse voted in favor of unionizing with representation of the ALU on April 1, 2022.