Michelle Wilson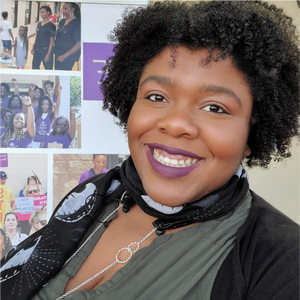 Chief Operating Officer at Women Engaged
Michelle (they/them/she) is a Black, queer woman born and raised in Kansas City, Missouri (KCMO). They have worked in social justice, community engagement, and politics for over 14 years. They started their journey as a teenager as the first Black woman appointed Chairman of the KCMO Youth Commission, where they led a team of young people who created policy recommendations for the city government. They went on to study political science in Little Rock, Arkansas at Philander Smith College.
They were a founding member of the first Gay-Straight Alliance at a Historically Black institution in Arkansas. Afterward, they worked in the Social Justice Institute at Philander Smith College managing programs and events in social justice education for the campus and community at large. Michelle worked closely with the Human Rights Campaign to advance rights and visibility for Black LGBTQ+ folks. While in Arkansas, they were appointed to the Arkansas Coalition for Juvenile Justice, where they served to inform policy pertaining to incarcerated young people. Michelle was also a board member of Women Lead Arkansas, an organization geared toward the inclusiveness of women in political engagement.
Michelle is now a resident in Atlanta, GA, and is set to receive their Masters in Political Science from Clark Atlanta University. Currently, they serve as a 2021 Reproductive Health Rights, and Justice Fellow with the Rockwood Leadership Institute to deepen their commitment to movement and leadership development. They are excited to bring together their passions and education to fulfill the mission and vision of Women Engaged. In their free time, Michelle enjoys crochet, playing/streaming video games, and connecting with loved ones.