Irene Headen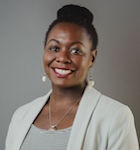 Assistant Professor of Black Health in the Department of Community Health and Prevention at the Drexel Dornsife School of Public Health
Dr. Irene Headen is an Assistant Professor of Black Health in the Department of Community Health and Prevention at the Drexel Dornsife School of Public Health.
Her research interests investigate the social and structural determinants of racial/ethnic disparities in adverse pregnancy outcomes. In particular, her work focuses on identifying neighborhood and community factors underlying these disparities and understanding how systems thinking can help translate these factors into multilevel interventions to improve Black maternal health outcomes. Central to Dr. Headen's work is placing pregnancy within the context of women's reproductive life course and developing ways to understand how structural racism operates over the life course to create racial/ethnic disparities during this critical window. She uses both epidemiologic and mixed methods approaches to conduct her research.
Dr. Headen received her doctoral degree in Epidemiology from the University of California, Berkeley in 2015 and completed a postdoctoral training fellowship through the Maternal and Child Health Bureau's Centers of Excellence in Maternal Health Postdoctoral Training Program. She also was a postdoctoral fellow at the Drexel Urban Health Collaborative before joining the faculty in 2019.