Report
November 28, 2021
Participatory ML
Research
Algorithms
Consentful Tech Curriculum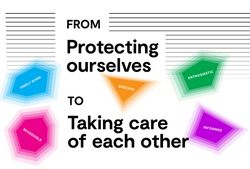 In 2021 Data for Black Lives joined forces with the Consentful Tech Project to release a curriculum guides practitioners through a process to develop technology in truly inclusive but also consentful ways, pushing back against the weaponization of data.
We have designed this curriculum to be used in communities, classrooms, organizations, technology teams, design studios, and more. Our intention is for it to support these groups in using and making technology in a way that creates safety, practices good consent, and is based in care and not harm.
Access the full curriculum below.